Below are some examples of work we have carried out in the past. If you are interested in seeing what we can do for you get in touch or request a qoute
Hebrides Cruises
CMS Website - Cruise System
Hebrides Cruises approached us to develop a new website for their diving and wildlife charter business. They had identified a number of key objectives for their new website and these included higher ranking in search engine results, a means of updating the website content and the inclusion of a photo gallery.
We designed Hebrides Cruises using Wordpress as a platform, allowing Rob to easily update his website by adding photos, news blogs, video and other content. We also carried out the necessary work for Hebrides Cruises website to be highly ranked in the search engines.
View site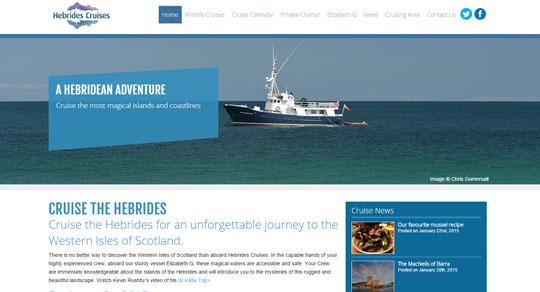 Failte Guest House
Website & logo design
We were asked to re-design a website for Failte Guest House (Tobermory) as the owner felt that their existing site was dated. In designing the new site we chose to incorporate a number of images to try to focus on the beautiful surroundings in which Failte is situated as a major selling point for the guest house. We also developed a new logo for the site using a line drawing of the house.
We also introduced a booking enquiry and contact form allowing guests to enquire about availability at the guest house. Since launching the site the amount of traffic from search engines has increased dramatically.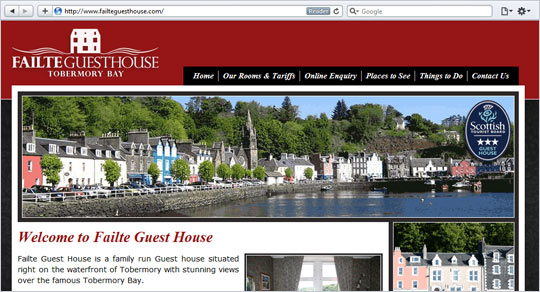 PMG Services
CMS Website & logo design
Peter from PMG Services approached us while he was in the process of starting up his business. He required a website and a logo that would be suitable for use on business stationery as well as large scale signage for his premises and commercial vehicles. We put together a couple of different logo concepts for him to approve before designing the final version. The website was set up with a CMS giving Peter the option to build and edit the site content over time.
View site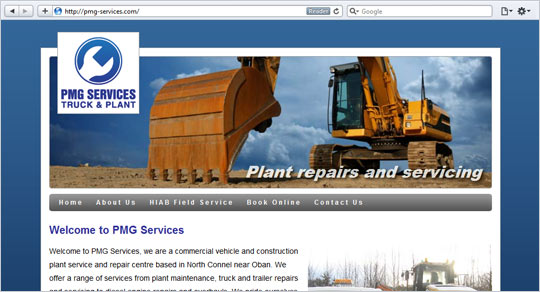 HoggMOT
CMS Website & Logo Design
We have been working with HoggMOT for over 4 years now. In the latest version of the site we have incorporated an online MOT reminder service allowing customers to sign up for an automatically generated e-mail reminder before their MOT expires. We also set up a content management system allowing them to add special offers and content to the site.
We designed their logo which is used on all office stationery, vehicle and premises signage.
View site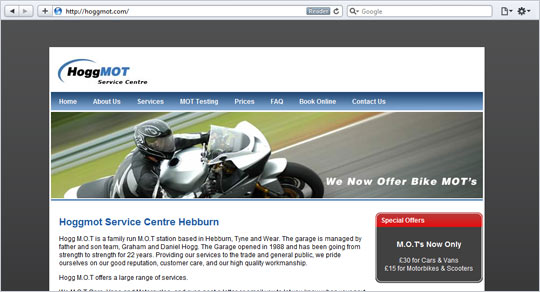 Gillaroo Ecommerce Store
OpenCart Ecommerce Site
Gillaroo Limited approched Clearbox Designs ambition of becoming Scotland's biggest online midge protection supplier.
We have implemented a system to provide customers with accurate stock levels and the date that out of stock items are expected in. We also designed the companys newsletter and various advertising materials (online and print).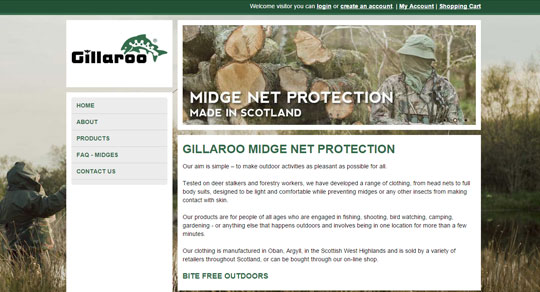 Christie School of Motoring
WordPress CMS Website
Christie School of Motoring need a new website which could be edited by easily by John. We produced an responsive wordpress website to achieve this.
View site