About Clearbox Designs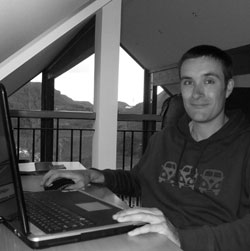 Clearbox Designs is an Oban-based company specialising in web design, e-commerce, database development, corporate branding and design for print. The company was founded in 2010 by Jonathan Ireland, a graduate from Portsmouth University with a degree in interactive media. Jonathan has been a freelance website designer/developer for a number of years and had established a diverse customer base prior to the launch of Clearbox Designs based on word-of-mouth and reputation alone.
At Clearbox Designs we believe in creating attractive and functional websites that are specific to your requirements and that will improve your customers' online experience. All of our websites are made from scratch (we don't buy pre-formed templates) using latest web standards and incorporating search engine optimisation (SEO) to help your business stand out and maximize your potential to reach out to a global audience.
Our approach is simple: we will meet you face-to-face or by e-mail/telephone to discuss your website needs, we'll present a mock-up for your approval, we'll design and construct your custom-made website and throughout the process you'll be in direct contact with your web designer. Once your website has launched we can provide web hosting, technical support/consultancy and site management/maintenance. We are a small company that believes in establishing good relationships with clients and having a clear, honest and straightforward approach. Whether its your first venture into web-based advertising or just a website update/redevelopment that you require, we can create a high quality, effective and affordable website that will allow you to engage with your customers.
We also offer design and print of stationery packages (for example, business cards, letterheads, flyers), logo design and branding, and database solutions. For more information see our services page.
Client Testimonials